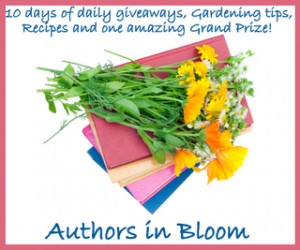 NOTE: If you have trouble commenting below, just email the information to alison@lalisonheller.com! 
This week I'm thrilled to be part of the Authors in Bloom Blog Hop, an amazing giveaway spanning one week and over 70 blogs. There's an incredible grand prize—an e-reader of your choice!—as well as goodies to win at each of the stops, which are listed below.
The Giveaway
Here, the prize is a personalized advance copy of my so-new-it's-not-even-out-yet novel, THE NEVER NEVER SISTERS, to be published June 3.
An absorbing, highly entertaining novel about family secrets, The Never Never Sisters introduces you to the strong-willed and big-hearted Reinhardt women, as they reunite one summer in New York. Gifted storyteller L. Alison Heller has written another witty and moving page-turner that will captivate readers and keep them guessing right up until the satisfying end. (Want more? Click here)
Rules for entry:
1. "Like" my facebook page and then comment below that you've done so.
2. Leave your email in the comments so that we know how to reach the winner for both this giveaway and the grand prize.
The tour ends on April 16th and by April 18, I'll use random.org to pick the winner. (US mailing addresses only, please.)
Gooey Chocolatey Recipe
I've been in NYC for most of my adult life and trust me—you don't want my gardening tips! (Although I have managed to keep alive some silk flowers from IKEA for years now and they are thriving.) I do have a kitchen here in my concrete jungle, though, and can offer a recipe for the most delicious chocolatey fudge/brownies/cookie things going.(adapted from the wonderful Mark Bittman):
1 stick butter (soft)
3 oz unsweetened chocolate, chopped
¾ cup sugar
1 egg
pinch salt
¾ all purpose flour
1 cup chopped semi-sweet chocolate
¼ cup pecans (optional)
1. Preheat oven to 350
2. Line 8 inch baking pan with aluminum foil and grease foil
3. Melt butter and unsweetened chocolate over a low heat. Transfer to bowl with electric mixer
4. Beat in sugar until smooth
5. Beat in egg
6. Add salt
7. Gently stir in flour, chocolate chunks and pecans
8. Pour into pan and bake for 20-25 minutes (middle should be just set—is better to undercook than overdo it)
Enjoy!
List of Sites
To be eligible for the grand prize, make sure you visit all of the sites listed below. Have a blast—lots of excellent fun ahead—and good luck!